Vivian Beaumont Theater Information
At an estimated cost of $9.6 million, construction of the Vivian Beaumont Theater was completed in 1965. The building was named after actress Vivian Beaumont Allen, who made a generous donation to see the completion of a facility for the dramatic endeavours of the Lincoln Center, but sadly passed away three years prior to the theater's opening. For its first year of activity, the theater was operated by the Repertory Theater of Lincoln Center under direction of Jules Irving and Herbert Blau – the latter resigned after one year, leaving Irving solely in charge until 1972, where ownership was changed over to the New York Shakespeare Festival. In 1977, the theatre closed down, but was re-opened in 1980 by the Lincoln Center Theater Company, under direction of Richmond Crinkley. Since then, it has remained open to the public, with various restoration and improvement works taking place to improve the venues facilities and acoustics over time.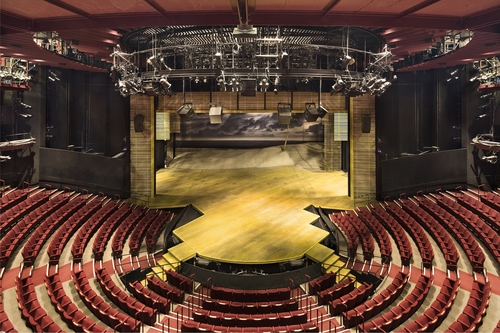 Please see the links below for further information on Vivian Beaumont Theater at the Lincoln Center for the Performing Arts:
Do you require parking? View the Vivian Beaumont Theater parking information page.
Want information on our recommended ticket provider and ticket policies? View the Vivian Beaumont Theater tickets page.
Find out about accessible seating and view the Vivian Beaumont Theater seating chart page here.